Uttrakhand, India
Location
Har Ki Dun trek is a picturesque offbeat place that lies in the western Himalayas. Full of flawless natural treasures, Har ki dun valley is known as Valley of Gods. Har Ki Dun is a peaceful paradise for nature lovers where you can experience adventure activities and equally enchanting sightseeing experiences. The poetic feel of the place is so beautiful and has an attracting charm in itself. Adding the beauty are the beautiful campsites with the gushing sound of the river and the golden hours during the dusk and dawn.
Description
Har Ki Dun offers a relaxing place to the trekkers from around where there are no connections from the outside world and where one can also enjoy the company of nature. Some of the exotic places to visit on Har Ki Dun trek are Panorama Point, Ancient villages, Duryodhana temple which is the only such in the world, jaundar glacier and the beautiful Ruin Sara lake. Har ki dun valley trek is also a great option for a summer holiday in Uttarakhand Himalaya. A winter paradise and travelers delight, Har Ki Dun Trek is a stairway to wonderland. One thing differs this trek from different is that you simply can trek in Summers and Winters both. And also, its beauty can amaze you in both seasons.
The Har ki dun valley trekking trail takes you through the most attractive pine forest, alpine meadows and also the beautiful glaciers that are a treat for your eyes. And through the number of ancient villages. Some believe that it is a similar route taken by the  Pandavs in Mahabharata to ascent heaven. Har Ki Dun trek is ideal for adventure seekers and nature lovers. Trekkers also spot the numerous species of bird and capture the fantastic pictures. And get a chance to look at the various styles of flying creatures. And from the summit point of Har ki dun trek, you can see the complete North face of Swargarohini I peak. This face drops to concerning in 2,000 meters in less than 2 kilometers distance is nevertheless to be climbed.
Best Season
Har ki Dun valley was an old trekking route where people can visit Gangotri and Himachal Pradesh. The Bali Pass and Borasu Pass treks are other treks that are more approachable from the Har ki dun valley. The best time to visit Har Ki Dun trek is in winters October-December and summers April-July. If you want to trek on Snow then the best time is from January to March.
The views of the mountain you can get on Har Ki Dun trek are special and remarkable as one can also see peaks like Swargarohini, Bandarpoonch, Blackpeak and Ruinsara peaks. Animals such as languor, Black bears, wild boars and Barasingha can be spotted. Birds like Golden eagles, massive Himalayan griffons, Himalayan monal thrives in these forests.
Day 1: Har Ki Dun Trek – Dehradun to Sankri.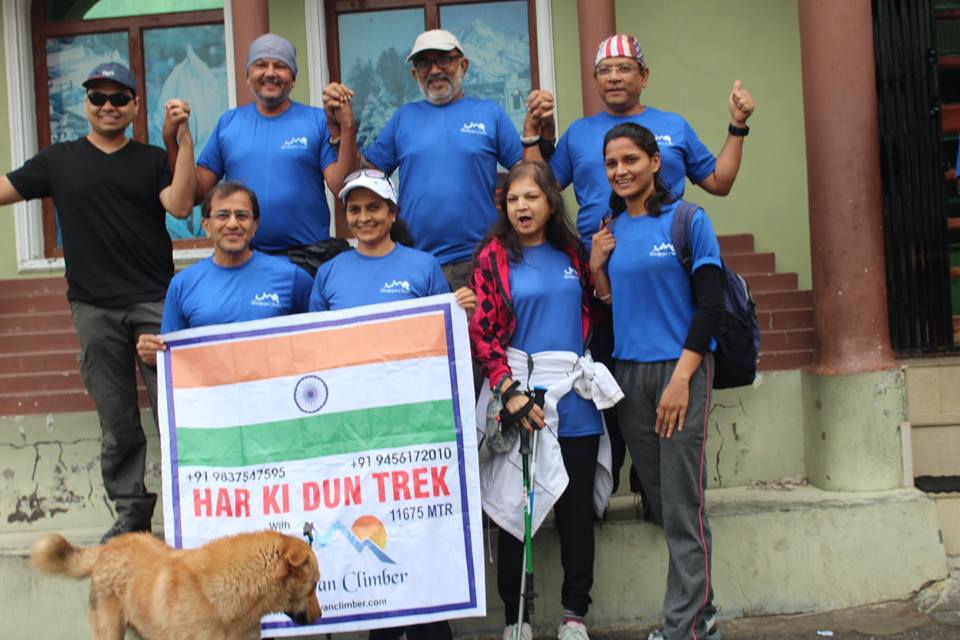 Distance: Drive 197 kms
Time taken: 8-10 hrs
Altitude: 6,455 ft.
The journey for Har ki Dun trek starts from Dehradun Railway Station early in the morning for Sankri. It is about 200 km away from Dehradun in the Uttarkashi District. Sankri is a place inside the Govindghat National Park where you can see people still living the traditional lifestyle in this fast-paced world. This place at an altitude of 1950 meters above sea level and is surrounded by scenic misty mountains.
Har ki Dun Trekking trail is surrounded by beautiful villages and also offers you a chance to explore the village and their lifestyle. Then, explore the local schools and learn more about the local tradition by looking around the local market. Har Ki Dun trek is blessed with natural beauty and a stay at the village is a unique experience in itself. Relax and acclimatize then overnight stay in sankri.
Day 2: Sankri to Taluka to Osla.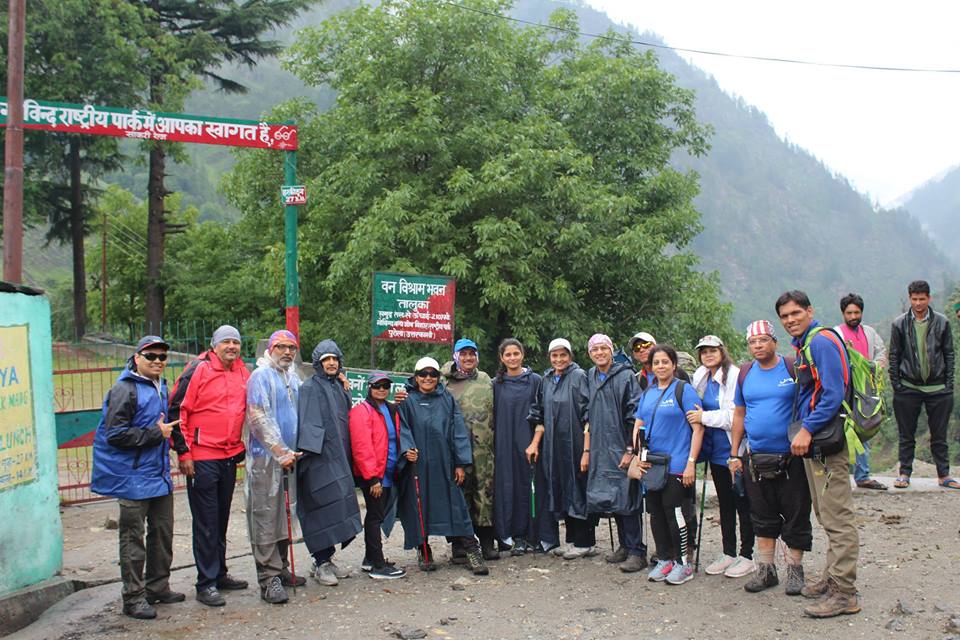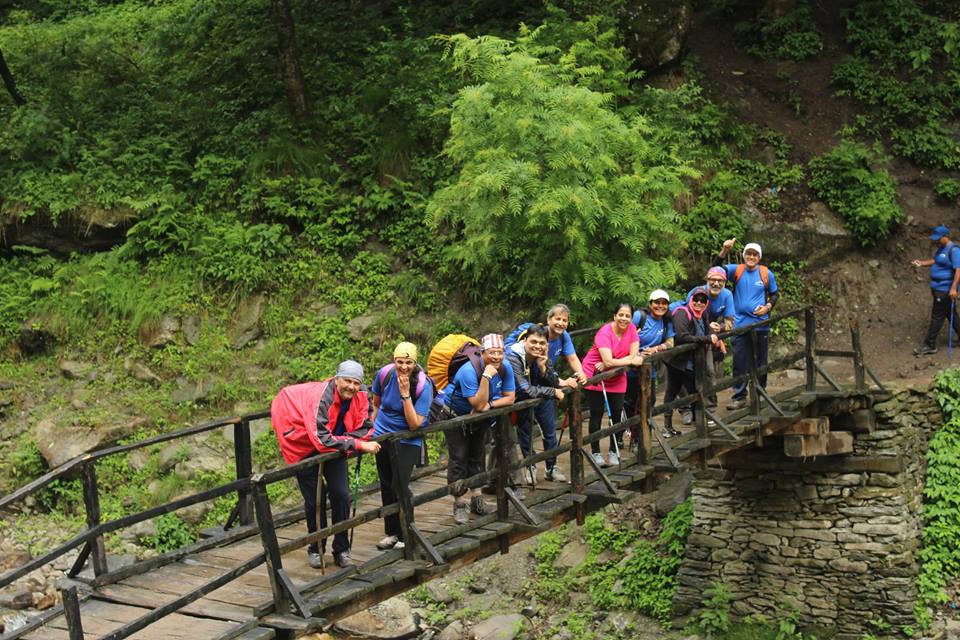 Distance: Drive 1 km, Trek 14 km
Max Altitude: 2560 meters
Difficulty: Moderate Ascend
Wake up to the sound of the chirping birds and as the first rays of the sun hit the snow peak of swargarohini peak and make it magical scene altogether. Have your morning tea or coffee and healthy breakfast and pack your bags as we set out on the journey.  Har Ki Dun Trek is one of the few treks in Uttarakhand which offers you a captivating trekking trail with the picture-perfect mountain views.
We leave in Sumo for Taluka after which we embark towards Osla. After an initial trek along River Supin, you follow a path through the lovely forests and meadows. The Har ki dun trekking route is along the Supin and Rupin river through the beautiful campsites of Har Ki Dun trek in Garhwal Himalaya. The Supin river which rises from the northern part, near U.P and Himachal. And the Rupin river which emerges from a glacier.
The walk is slightly strenuous due to the distance but the scenery around is a compensation enough. We reach Osla which is the first campsite of our Har Ki Dun trek. Camp for the night.
Day 3: Osla to Har-ki-Dun.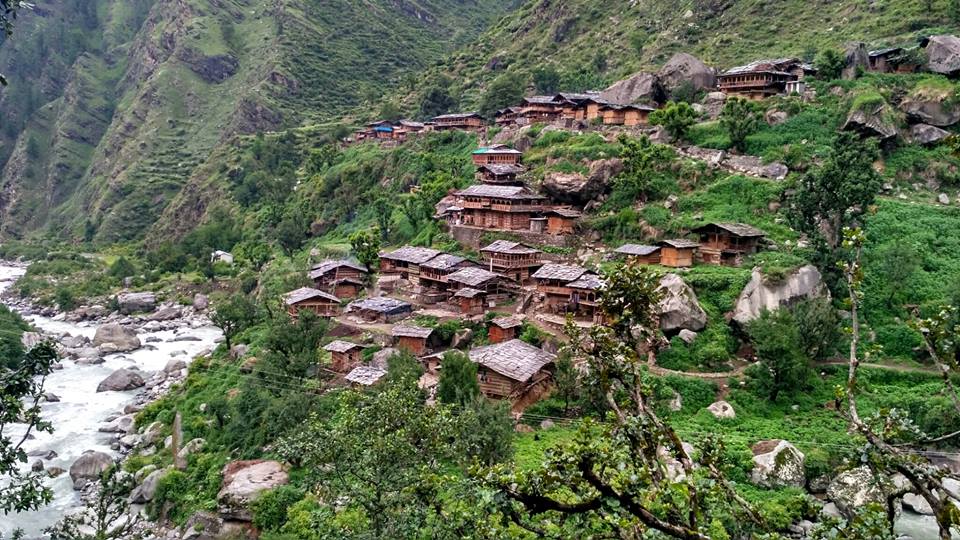 Distance: 11 km
Time taken: 5-6 hours
Altitude Reached: 3558 meters
Difficulty: Moderate to Steep Descend at places
Har ki Doon allures you as we embark on a mildly strenuous trek today. Osla is a small hamlet about 8,500 ft above sea level. This is one of the beautiful campsites of Har ki dun trek. And, you will also cross small streams and mighty rivers with the wooden bridges over them. After that, you are now surrounded by watchful sentinels of the Himalayan snow-clad peaks amidst lush green scenery or maybe snow. Velvety grasslands and spectacular mountain views in the surroundings make Har ki Dun Trekking in Uttarakhand a delightful experience. And the best part about the Har Ki Dun trek is a walk in the lush greenery, passes through the forest of pine and oak trees. The beautiful trail also allows you to explore more in Uttarakhand Himalayas. Similarly, one of the best trekking trails for nature lovers.
The flora and fauna all around you will take you to a different world. The cold breeze will pass by your face as you can smell the fragrance of the flowers. Har ki Dun is a place with a very pure vibe and also the mesmerizing beauty which can only be felt. Har ki dun trek is for you if you wish to experience the scenic beauty of mother nature and take some time out and want to lose yourself to pure ecstasy.
Day 4: Har ki Dun to Jaundhar Glacier and back.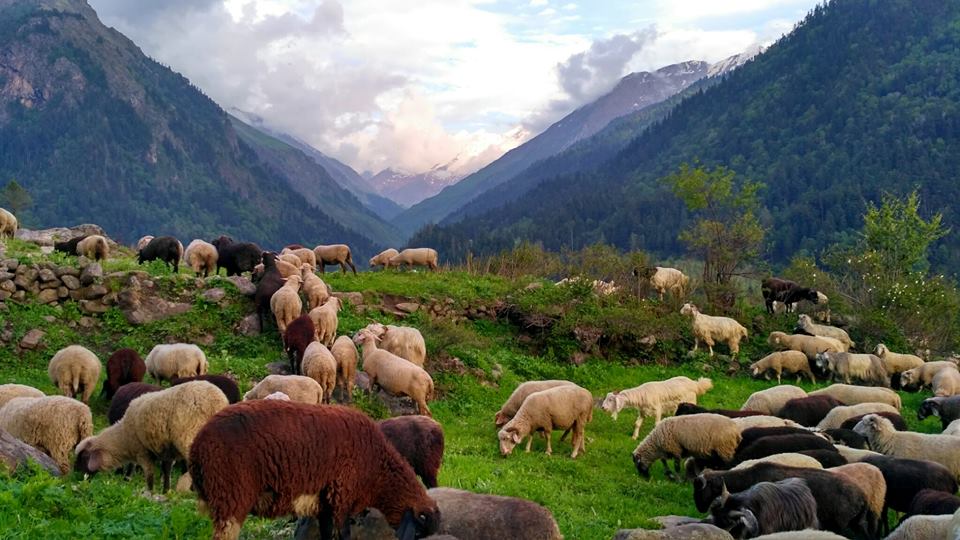 Distance: 15 km
Time taken: 7 hours
Difficulty: Moderate trek
The Rivers will wake you up in the morning as you can enjoy the sunrise like never before. A quick detour to the Maninda tal and then to Jaundhar Glacier from the Har ki Dun campsite to witness its scenic beauty of the Himalayan mountains, the towering peaks around and the route go across the alpine flower meadows. Harkidun trek nestled in the hills in Uttarakhand, have added a magical charm to the mystic land. Trekking in Uttarakhand is one of the most beautiful to get an insight culture. Including the fantastic view of the mountains in this trekking trail, it is also one of those treks which takes you a different world. During the Har Ki Dun Trek, enjoy the nature's beauty and the extravagant views of the surrounding valleys.
The Jaundhar glacier is in the near vicinity of the famous Swargarohini peak. And, the summit point of the Har ki dun trek, Jaundhar glacier is relatively large and is divided into two parts, North and South. Trekkers can also see the Jaundhar Basin and Jaundhar Glacier from the top. The trail is fairly easy and grassy or snowy, depending upon the season.
Day 5: Har-ki-dun to Osla.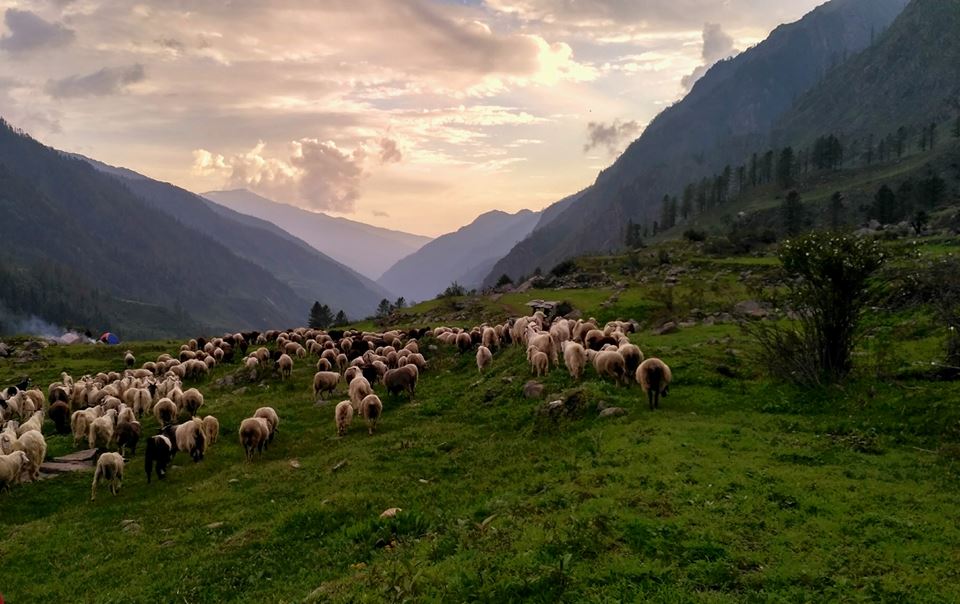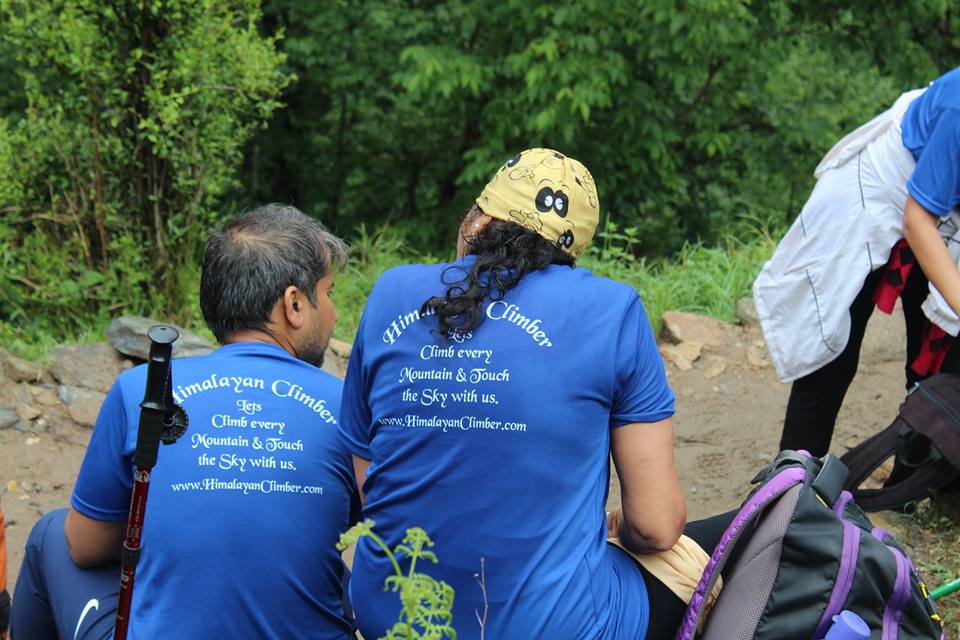 Distance: 11 km
Time taken: 3 hours
Today a quick return from Har ki Dun Valley early in the morning. Relatively easier and quicker due to descend. These beautiful villages of Uttarkhand has attracted by many trekkers and art lovers. Similarly, many attractive artists represent Uttarakhand through the pantings. Visit Har Ki Dun Trek in Uttarakhand if you are a true nature lover. This trek is also one of the most enthralling treks in Uttarakhand. Then, Reach the campsite Osla and relax.
Day 6: Osla to Sankri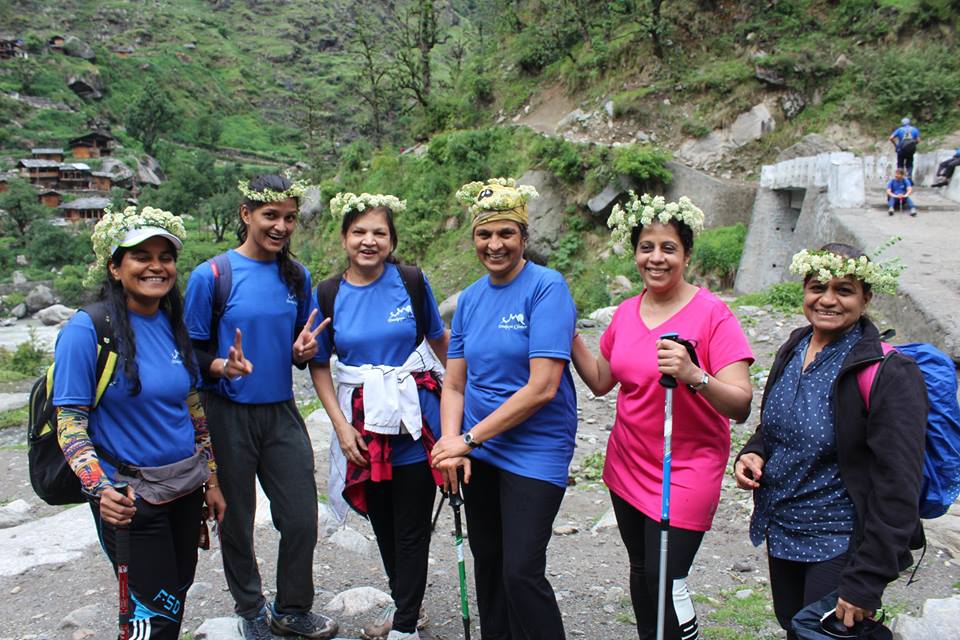 Distance: 12 km, 14 km drive
Time Taken: 7-8 hours
Walkthrough the beautiful Har ki Dun valley as the slopes greet you with a brilliant sunset. The flora and fauna couldn't be placed better. The Har ki dun trekking trail draws you in. Make sure you are well covered throughout. Do not shed all your thick clothing just yet because you feel hot. Trekkers can catch a cold pretty easily. Reach Sankri, enjoy the local cuisine and then call it a day.
Day 7: Har Ki Dun Trek – Sankri to Dehradun
Traceback to the valley of Dehradun. Reach by 7-8 pm. Let it all sink in. You have conquered Har Ki Dun trek in Uttarakhand. Indulge in the memories and nostalgia for the night. Savor and treasure the memories. Hope to see you soon!
Inclusions
Meals while on trek (Veg., Egg).
All entry fees and permits.
Accommodation:- Guest house, camping during Trek.
Qualified & mountaineering certified Trek Leader, Guide and Support staff.
First aid medical kits
Trek equipments (Sleeping Bag, Inner, Mattress, Tents, Kitchen tent, dinning tent, toilet tent).
Exclusions
Transport to and from the base camp is to be paid directly to the driver
Any kind of personal expenses.
Food during the transit.
Mules or porter to carry personal luggage.
Insurance.
Anything not specifically mentioned under the cost.
Equipments
* Backpack (Rucksack) (60 ltr -70ltr) with comfortable shoulder straps and back pack rain cover
* Walking Stick
* Water Bottle
* Head Torch with Extra Batteries
* Lighter
* Knife
Clothing
* Down Jacket
* Fleece Jacket
* Windproof Jacket
* Waterproof Jacket
* Thermal Trouser
* Woolen cap
* Waterproof and Woolen Gloves
* Gaiters
* 5 Pair Woolen Socks & Light Cotton Socks
* Hat
*T-shirt 3-4
* Comfortable 
Trek
 Pants 3-4
* Handkerchief
* Monkey cap
Foot Wear
* Trekking Shoes
* Slippers
Miscellaneous Items
 * Sun Block for Lips
 * Sun Protection Cream
 * Sun Glasses it should be U/V Protected
 * Toilet Kit (Toilet Paper)
 * Quick Dry Towels
 * Water Purifying Tablets
 * Medical & First-Aid Kit
 * Hand Sanitizer
Other
* Lunch box
* Buff
* Nail cutter
* I.D.
* Passport size photo
Har ki dun Trek Guide
Distance from Indian capital Delhi (Approximate 500 km including Trek distance- 27 km- 7-
Days)
Location: Located at District -Chamoli, State-Uttarakhand, height- 3566 m, surrounded by
Jaundar (Jamdar) Glacier and surrounding Swargarohini glittering peaks and forests.
How to Reach
BY TRAIN
22 weekly trains from Delhi to Dehradun. Some trein are respective train number – New
Delhi Dehradun Ac Express, Dehradun Janshtbdi, Dehradun Shatabdi Dehradun Shatabdi-
12017, Dehradun Janshtbdi- 12055, and New Delhi Dehradun Ac Express- 12205- for more
detail visit IRCTC webite.
BY BUS
Regular buses from ISBT ISBT Kashmiri Gate in New Delhi station to Dehradun station-
Dehradun, Drive to – Sankri- Trek start from here
BY AIR
Indira Gandhi International Airport to Jolly Grant Airport from Delhi, 20 km from Dehradun-
Dehradun, Drive to – Sankri- trek start from here
Dehradun, Drive to – Sankri- trek to Taluka –Osla – Har Ki Dun-11 km-Trek from Har Ki
Dun – Jaundhar Glacier – Har Ki Dun camp-15 km
Famous hill station located this route- Dehradun- Mussorie- Purola- Sakri-Takula-28km Trek
to HAR KI DUN
Day 1: Drive from Dehradun to Sankri (6,455 ft); 8-10 hours, 197 km
Day 2: Sankri (6,455 ft) to Osla (8,398 ft) via Taluka; 7-8 hours 12 km drive, 14 km trek
Day 3: Osla (8,398 ft) to Har Ki Doon/Dun (11,673 ft); 5-6 hours, 11 km
Day 4: Har Ki Dun (11,673 ft) to Jaundhar Glacier and back to Harkidoon; 7 hours, 15 km
Day 5: Har Ki Doon (11,673 ft) to Osla (8,398 ft); 4-5 hours, 11 km
Day 6: Osla (8,398) to Sankri (6,455 ft); 7-8 hours, 12 km drive, 14 km trek
Day 7: Drive to Dehradun; 8-10 hours, 197 km
A trekking requires a lot of preparations to make sure that are physically and mentally ready for adventure. Here you can learn some basic life and survival skills, planning and organizing in this phase. We are giving some suggestions to make sure you are safe and enjoy your trekking adventure, Because of the changing environment, altitude, and terrains you'll be facing Climbing & trekking is no small undertaking, so it is necessary that you give some time to prepare before you going to trekking & expedition in Himalayan Mountain.
WHAT DO YOU ACTUALLY NEED TO DO BEFORE GOING TO TREK?
Prepare your body-
Running, Walk, Running
Running & Walking is the easiest and best for good health and trekking. Since the daunting of trekking & climbing requires long hours of public walk, ride, or drive, you must practice running or walking ablest one hour daily. Long walks during trekking make you tired those times and walk increase your fitness levels.
The benefits of running-
Loosing of extra pounds weight
Lower risk of heart problem
Improve and balance blood circulation
Increase stamina
Walking with solder-load or weighted bag
Since trekking requires long time walks with a bag 5 kilos on your solder, a sudden weight on your shoulders. Put 5-6 kilos bag and try to walk 2-3 minutes and repeat this 10 times in 24 hours. If you have weight vest the try to run if you have not weighted vest the fill your bag with some books and wasted newspaper to weight.
Climb stairs Up & Down
A mandatory aspect of trekking is ascending and descending trek. Ascend and descend walking is the most difficult tasks one faces during such trekking. For fitness practice, you regularly climb stairs. Regular climbing stair provides stronger muscles and better mental reflexes. Every day 5-10 minutes of stair climbing or 45 min walk or 20 min running reduces the risk of heart problem and increasing your stamina.
Leg Exercises
Sports like football and hockey which involve running can be the best exercise. Cycling is also best exercise to boost up your muscles. You also follow leg exercises.
Sit-ups
Leg Curls
Cycling
Dumbbell lifting
Swimming
Swiss Ball Wall Squat
Stairs walk
Leg Curls
Repeat those exercises 2-3 time in a day to prepared for trekking in Himalayas.
Mental and physiological fitness
Mentally and physiological fitness is more important for fitness. If you find some time for yourself then meditate. Meditation is best exercise for the Mental and physiological fitness.
One of the most impotent things for trekking and maintaining is support and encouragement of your family and friends.
Some other type to exercise your body that would give advantages and more benefit during ascent and descent trek way-
Yoga, stretching which helps maintain flexibility of your body
Stretching helps maintain flexibility
Aerobic exercise
Stair up and down